The Vestec Speech Engine has been designed as a powerful, low-cost, standards-based alternative to conventional ASRs for small vocabulary continuous speech applications. We are pleased to share with you the latest information about this ASR engine from our partner Vestec. VXI* VoiceXML Browser for Asterisk runs Vectec ASR thru a native connector (included with VXI*) or MRCP Client. A very important annoucement from Vestec is the availability of new 20 voice accoustic models for most european languages and many others.
New 24 languages: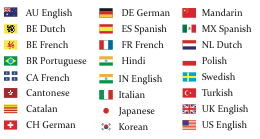 Some important features:
Low price
High accuracy
Medium vocabulary
SGRS Grammars
SISR Tags
MRCP Support
Scalable architecture
New languages
Brochure:
[download id="152″ format="1″ autop="false"]
Vestec is I6NET's Congress Partner at next MWC 2012 Barcelona.
Ulex Innovative Systems booth at French Pavilion UbiFrance Hall 2, 2F49 exhibit Days 27, 28.
More information: