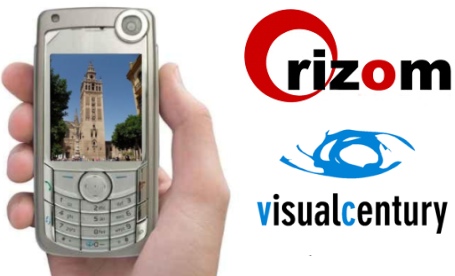 Madrid/Sevilla – Spain, April 27th, 2009 – I6NET provider of 3G/IP IVR / IVVR VoiceXML communications components and Orizom / VisualCentury an innovative company that provide advanced image recognition and multimedia products, have chosen to create together new value added mobile services.
The Feelterz software from Orizom / VisualCentury is a high performance Image Recognition engine that allows to find and link products with information in a matter of seconds. Using this software with an interactive video VoiceXML service allows to manage new possibilities of business. An example of a 3G videocall service powered by VXI* and Feelterz is a tourism monuments or places information phone number to provide text, voice or video information about different city's places. You just make a simple videocall with your 3G mobile phone and this video self-service will recognize automatically the monument in front of you, accessing in few seconds to a text/voice/video interactive content during the call.
Iván Sixto, CEO of I6NET, says: "We are very please to work with Orizom with their Video & Image Recognition because our both technologies provide a very easy way to solve complex situations. Feelterz provide smart behavior to a 3G videocall service for tourism, marketing or any other endless business cases".
The VXI* VoiceXML browser gives the ability to rapidly develop and deploy innovative voice and video applications via IP, PSTN, and 3G-324M networks. VXI* is fully compliant with the W3C's VoiceXML 2.0+ specification and is integrated with automatic speech recognition and text-to-speech software to enable advanced voice and video solutions, and real-time video calling applications.
About Orizom
Orizom is a spanish company in the information and communications technologies sector. Orizom provides the means to send high-impact video, audio, text, image or Web content to plasma screens or other viewing devices in private broadcasting circuits. Latest Image Recognition products allows you to recognize and link your products to the internet with only one snapshot.
Orizom | Musgo, 15 41089-Montequinto (Sevilla) – Spain
info @ orizom . com | www.orizom.com
About I6NET
I6NET Solutions and Technologies Limited is a pan European company specializing in the development of new applications and advanced communication solutions. Its innovative VoiceXML browser and applications technology enables the creation of interactive voice and video IP/3G services to access multi-lingual and dynamic contents.
I6NET | calle Magallanes 13 – 28015 Madrid – Spain
info @ i6net . com | www.i6net.com