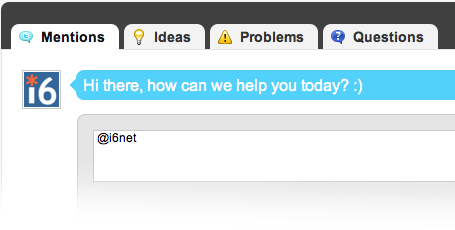 We are please to add a new option to share faster new ideas, suggestions and answers with our customers via Twitter. An easy web form is available at Followbase site: http://www.followbase.com/i6net
Now, you can write @i6net a short text (140 chars) or tiny link for your:
For other questions our ticketing system is:
Mail: support@i6net.com (ticketing system)
Monday – Friday / 9 am – 5 pm GMT+2 customer's business hours (max. time 48h)
Thanks for your continuous support!