Spain, France – December 8th 2008. Today, we want to talk about MyVocal.com – a personalized mobile service for commuters. MyVocal allows immediate listening to any spoken word audio content (podcasts, travel guides, audio-books, user-generated content, any text converted into speech, etc.) by sim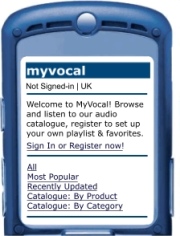 ply dialing the local phone number. MyVocal is featured with mobile and web portals helping in finding the content, managing playlist and favorites, adding new content to the library, sharing content with friends on Facebook and Twitter, etc.
By definition, MyVocal service works on any phone – audio is played on the voice portal powered by I6NET VoiceXML browser, so it works even on a fixed-line phone or VOIP provider (like Skype). All audio episodes on MyVocal are tagged with unique numeric IDs – users fetch these audio-articles by typing their DTMF codes. When user explores content from the mobile, the requested audio story is fetched automatically when user selects "Listen on MyVocal" link.
MyVocal is also a tool for partners such as publishers, operators or VAS providers. With simple web interface partner can customize and launch in few minutes their braded mobile portal and downloadable Java application with audio streaming. MyVocal will also help monetizing this content through premium subscriptions and mobile ads.
Visit http://www.myvocal.com on your computer or http://myvocal.mobi on your cellphone.
About MyVocal
MyVocal is a developer of the mobile audio content platform which combines data and voice services in a convergent consumer product and solution for operators, content publishers and VAS providers. Company is headquartered in France with R&D office in China.
MyVocal | 24 rue Louis Franc – 75010 Paris – France
myvocal @ myvocal . com | www.myvocal.com
About I6NET
I6NET Solutions and Technologies Limited is a pan European company specializing in the development of new applications and advanced communication solutions. Its innovative VoiceXML browser and applications technology enables the creation of interactive voice and video IP/3G services to access multi-lingual and dynamic contents.
I6NET | calle Magallanes 13 – 28015 Madrid – Spain
info @ i6net . com | www.i6net.com