Madrid, Spain- March 24, 2009 – I6NET, developer of the first official native integration between the popular open source Asterisk® telephony engine and VoiceXML, the most advanced voice and video application's standard language, announces full interoperability and certification with Redfone Communications line of foneBRIDGE2 products. Combined, these building blocks can now allow customers to develop fault tolerant, highly available and scalable IVR /IVVR architectures, leveraging low cost open source software and standards based VoiceXML formatting.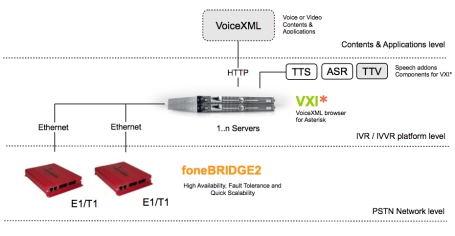 Download FREE Case Study: [download id="40″]
foneBRIDGE2 Overview
foneBRIDGE2 is a T1/E1 PRI-to-Ethernet Bridge. It is an integrated black-box "appliance" designed to streamline installation and enable redundant design of Asterisk based VoIP systems. foneBRIDGE2 eliminates the need to install proprietary TDM hardware cards in approved/compatible server configurations. Instead, foneBRIDGE2 terminates T1/E1 PRI lines on the trunk side and provides direct Ethernet communication to a network of Asterisk serversusing native Asterisk TDMoE formats and utilities. Engineered around our unique high-speed SoC. (System-on-Chip) TDMoE engine, foneBRIDGE2 provides low-latency delivery of your critical voice traffic and rapid switching to backup server nodes during fail over operations.
VXI* VoiceXML browser Overview
The VXI* VoiceXML browser gives operators and solution providers the ability to rapidly develop and deploy innovative voice and video applications via IP, PSTN, and 3G-324M networks.  VXI* is fully compliant with the W3C's VoiceXML 2.0+ specification and is integrated with automatic speech recognition (ASR) and text-to-speech (TTS) software to enable advanced voice and video solutions, and real-time video calling applications.  VXI* can be installed in common hardware configurations, providing a highly scalable base system to meet all customers' business and technical VoiceXML requirements.
About Redfone
Redfone is a hardware and software engineering firm dedicated to providing solutions for the most demanding Open Source based voice implementations in the World. Redfone specializes in the development of unique connectivity solutions for popular Open Source voice platforms such as Asterisk®, Trixbox, and Elastix. Our unique philosophy of externalizing PSTN connectivity, combined with our extensive background in the engineering of critical data systems for the avionics industry sets apart from traditional PCI card vendors. Our solutions overcome some of the most significant challenges in deploying Open Source voice platforms, namely hardware compatibility, scalability and redundancy.
REDFONE Communications LLC
9941 West Jessamine St, Miami, Fl. 33157 USA
info @ red-fone . com | www.red-fone.com
About I6NET
I6NET Solutions and Technologies is an European company dedicated to research and development of telecommunications and Internet technology. We are advanced services experts in voice and video interactivity in line with the latest evolution in telephony.
I6NET | calle Magallanes 13 – 28015 Madrid – Spain
info @ i6net . com | www.i6net.com