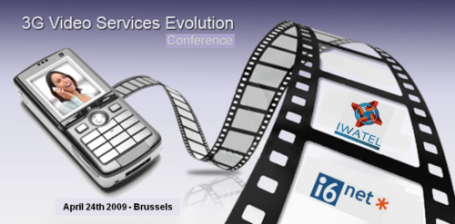 3G Connectivity for 3G Video Services Evolution is delighted to invite you to attend this Conference on next April 24th 2009 in Brussels (Belgium)
This event is an excellent opportunity to introduce the latest advance platforms and toolkit sharing technical complexities of mobile video. It offers you a leg-up you need to produce compelling and profitable applications enabling the deployment of new video-based services. 3G Connectivity has been quick to adapt to the changing needs of the market and recognizes the demand for feature rich, engaging video applications which are enabled by highly scalable 3G networks. In addition, anyone can record content to the Video Portal for applications from any 3G mobile phone. Furthermore, 3G content can be live-streamed to the Internet.
Our keynote  will be presented by  Ivan Sixto, CEO & Business Dev. Manager at I6NET.
More information at: www.3gconnectivity.com