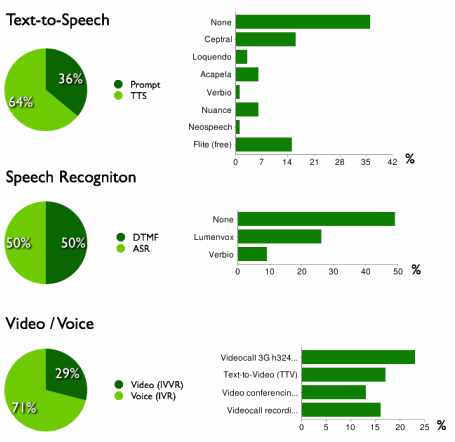 I6NET: VXI VoiceXML IVR/IVVR configuration survey 2009
VXI* VoiceXML browser users are looking for very different configurations for their IVR / IVVR projects. Today, Voice IVR demand represent 71% of our project requests and video IVR (IVVR) only 29%. This is a great new, because today telephony is not only voice oriented and we are very please to help growing this new market too.
Concerning Speech Recognition and DTMF, both are requested by 50% of users but the total ports using an ASR engine represent only  15% of the total ports sold. Today DTMF, keep 85% of applications powered by VXI* in a global market.
Text-to-Speech is chosen by 64% of customers, because our product is very near to Asterisk first choices are for Flite and Cepstral, but advanced TTS engines are used in near to 60% ports sold.
Voice IVR steel very important for Telephony but Video IVR has  an important growth since last year on specific projects including 3G or Video over IP. DTMF is not replaced by Speech Recognition, most simple phone self-services steel using DTMF; main reason is probably the expensive cost of ASR engines technology, this option is not fitting with all projects needs. Our Text-to-Speech engine options have open connectors with VXI* and we hope be adding more engines in the next months.