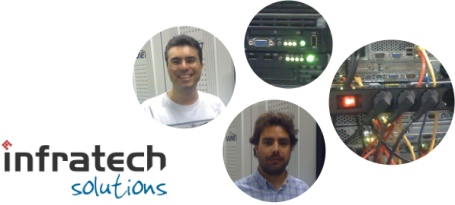 I6NET is in continuous systems growth in order to provide more and better solutions base on all our technology components for the Next Generation Telephony. Today, we are please to announce, Infratech Solutions services renewal for all our IT management operations of virtualization, research & development servers and support for colocation services. With Infratech, our servers are maintained by the best system engineers with highest carrier conditions at VerizonBusiness / Interxion sites. Infratech and I6NET work together to deliver the high quality of services for our IVR / IVVR platforms. "Our teams are working really close since several years and share a strong commitment. Datacenter management becomes a very different task with them", says Iván Sixto CEO of I6NET.
About Infratech
Infratech is a services company providing support for IP networking / Housing / Hosting / Security. Today Infratech is providing IT infrastructure management and advanced security solutions. Infratech supports services maximize the availability of IT hence, improving customer satisfaction and ROI on IT investment.
Infratech Solutions | Francisco Mosqueda, 4 -1º C 28043 Madrid (Spain)
info @ infratech .es | www.infratech.es
About I6NET
I6NET Solutions and Technologies Limited is a pan European company specializing in the development of new applications and advanced communication solutions. Its innovative VoiceXML browser and applications technology enables the creation of interactive voice and video IP/3G services to access multi-lingual and dynamic contents.
I6NET | calle Magallanes 13 – 28015 Madrid (Spain)
info @ i6net .com | www.i6net.com