February 3, 2010, Madrid, Barcelone – Spain. ANDROME partners with I6NET for its Phemium Consultant platform (www.phemiumconsultant.com), to provide dynamic voice/video menus for remote consulting  for both phone and 3G phone calls. We are please to collaborate in a new kind of advanced on-demand business video platforms.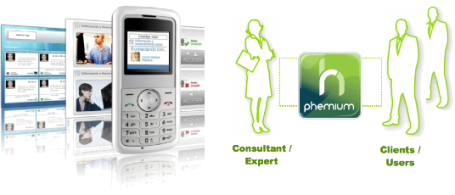 Phemium Consultant
While most of the companies sells their products in an e-commerce portal, those that provide professional and consulting services use their websites as an advertising tool only. There are no tools to manage and control comprehensively their service offerings, consultor resources and online transactions, in addition to communications, all essential to move their consulting business online. Phemium Consultant is the first application (SaaS) that manages comprehensively the business processes to offer and provide in real time teleconsulting services in a web portal or 3G.
More information: PhemiumConsultant – Video Demos
About ANDROME
Androme Iberica is a Spanish company belonging to the Androme group, a Pan European group of companies specialized in Telecommunications and multimedia software. Its main products are Intellivic, a set of video-conferencing products on SIP, and Phemium, a set of platforms for added value services on communication technologies such as SMS and video-telephony.
Androme Iberica | calle Numancia 73, 5ºA – 08029 Barcelona- Spain
info @ androme . es | www.androme.es
About I6NET
I6NET Solutions and Technologies Limited is a pan European company specializing in the development of new applications and advanced communication solutions. Its innovative VoiceXML browser and applications technology enables the creation of interactive voice and video IP/3G services to access multi-lingual and dynamic contents.
I6NET | calle Magallanes 13 – 28015 Madrid – Spain
info @ i6net . com | www.i6net.com