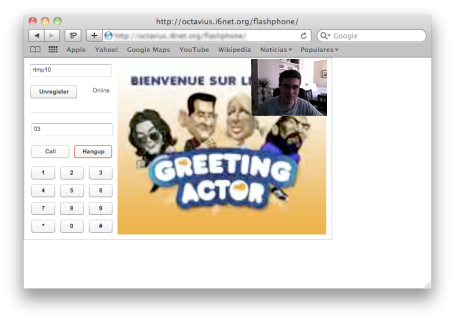 We are pleased to unveil the first online Flash/RTMP Phone for VXI*/Asterisk platforms. This flash softphone app. is a small .swf Client for our Xtras* Flash/RTMP Server Channel to make voice or video calls from any website. This applet is easy to customize or edit by yourself with an Adobe Flash/Flex editor. Our current template (version 6.0) keeps very simple to fit with any website pages or any Flash applications (updating sizes, fields, buttons, colors, positions…).
Main features:
RTMP voice / video calls in/out
QCIF, CIF, HD screen size formats and more
DTMF (Dual-Tone Multi-Frequency)
Ringing, Dialup, Hangup
Unlimited users (simultaneous calls limited by server's port capacity)
Key Benefits:
No client software installation required!
No specific OS or Web browser configuration
Smart bandwitdh adaptation in audio/video streaming
High performance C built Flash/RTMP server channel
Very small .swf client applicaton downloaded in less than 3s
NAT passthrough thanks to extended Flash/RTMP protocol
System Requirements:
Any Web Browser Flash enabled like IE, Firefox, Safari, Opera, Chrome,…
Any OS like Windows, Mac OS X, Linux, Chrome, Android,…
Any Flash Player 10 or upper
Thank you for your continuous support!