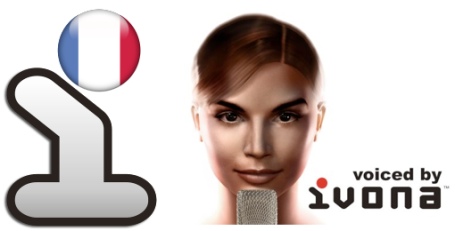 June 30th, 2011, Madrid, Spain. We are please to announce new french voices from our partner IVONA Text-to-Speech. Céline and Mathieux voices are designed for the french market now available from the Ivona website at www.ivona.com and can be purchased for your VXI*/Asterisk platforms deployments. IVONA technology uses artificial intelligence algorithms, which with computer precision reflects the expression and any individual characteristics of the human voice.
Remember, an excellent and natural Text-to-Speech engine will provide you the best IVR experience for your projects based on phone services.
Press Release (PDF):
[download id="130″ format="1″ autop="false"]
[download id="131″ format="1″ autop="false"]

About IVONA Text-to-Speech
IVONA is widely recognized and awarded as the highest-quality, most natural-sounding TTS system in the world. IVONA TTS technology can be delivered as "on premise" solution, Software as a Service or embedded into personal devices. In support of its long-standing commitment to accessibility, the Company works closely with the largest organizations supporting blind and visually impaired people in the world, including Royal National Institute for Blind People and DAISY Consortium.
Other Posts: