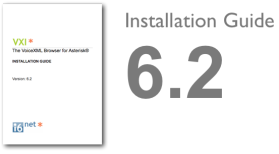 We present a new update of the VXI* VoiceXML Browser Installation Guide; this new PDF file is now available at our download documents section. You will learn more about how to setup and modify all configuration parameters. This new documentation ref. 07/2011 has been updated for all VXI* 6.0, 6.1, 6.2rc,… releases  and will provide important help to all users.
Download:
[download id="132″ format="1″ autop="false"]
Some updates:
System management
Configuration description (vxml.conf)
VoiceXML Accounts configuration (accounts)
Cache management
Create your first VoiceXML service
Commercial license activation
Configuration files (examples)
More information at: Documents
Thank your for your support!