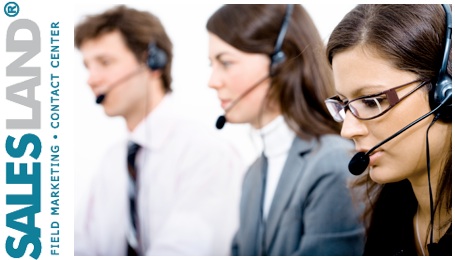 Salesland is a leading field marketing and contact center company. Through its business lines: Sales Force Management, POS and Telemarketing offers tailored solutions to support the outsourcing of services that add value and profitability for companies of all sectors.
Salesland drives a strong business growing beyond the crisis using advanced technologies and innovation. Now Saleland Call Center is one of the pioneers in the market to launch its own online videosales service. This advanced service is able to manage any kind of videocalls thru internet (dual videocall, single videocall or audio call only…). Salesland's agents can provide realtime video call experience over the web to share realtime videos and discuss online with any customer or consumer.
Salesland selects VXI* for video and online personal assistant services because it provides a flexible web videocall integration for all its contact center platforms and technicaly ready for all existing web browsers.
More information:
Spanish Version:
Salesland es una compañía líder en servicios externos de ventas mediante equipos de field marketing y contact center. A través de sus líneas de negocio: Gestión de Fuerza de Ventas, Gestión del Punto de Venta y Venta Telefónica-Multicanal ofrece soluciones a medida prestando apoyo a la externalización de servicios que aportan valor y rentabilidad a empresas de todos los sectores.

Salesland gestiona un negocio en fuerte crecimiento más allá de la crisis gracias al uso de nuevas tecnologías e innovación. Ahora Saleland es uno de los pioneros en el mercado para lanzar su propio servicio de videoventa. Este servicio avanzado es capaz de gestionar cualquier tipo de videollamadas a través de Internet (videollamada dual, videollamada unidireccional, llamada de audio …). Agentes Salesland puede proporcionar videollamada en tiempo real a través de la web para compartir video en tiempo real y dialogar en línea con cualquier cliente o consumidor sin artificios.

Salesland elige VXI* para sus servicios de videocita y asistencia personal online, por una gestión flexible con todas sus plataformas de centro de contactos y una optima integración de la videollamada web con todos los navegadores actuales.