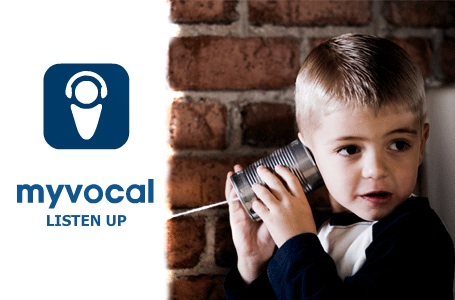 September 22, 2009, San Diego, California US – MyVocal, a developer of the innovative mobile services and applications, announced today the release of the first speech-controlled mobile content service for commuters.
MyVocal brings various spoken audio content to millions of mobile users worldwide. It provides access to podcasts, audio books and magazines, streaming radio, and various interactive services through any phone. Using i6NET's technology, MyVocal users can now control the service with simple spoken commands, making MyVocal a robust on-demand mobile radio available anytime, anywhere.
"MyVocal is a simple application that can change your life – it helps you listen to any of your content instead of reading it. The beauty is that you can listen to your content while commuting using just your cellphone – even a very basic one," said Alex Patsko, CEO & co-Founder of MyVocal. "We believe that with MyVocal, you can utilize your commute time more wisely, getting more things done on the go, and eventually spend more time with your family and friends."
MyVocal provides a complete white-label solution for content publishers, helping them bring their content to their commuting audience, and monetize this channel with advertising and mobile micro-payments. The MyVocal platform includes over 60 APIs that help integrate MyVocal with various 3rd-party applications and services.
"MyVocal is a flexible and highly scalable platform based on the open source technologies and standards such as Linux, Java and VoiceXML. One of the key components of our platform is the I6NET's VXI* VoiceXML browser, which ensures seamless content delivery and speech-controlled user interface." said Eugene Silin, CTO of MyVocal. "It takes literally just a few hours to scale-up the capacity or roll-out the service to a new country. A big part of this extensibility is possible thanks to i6NET's VXI* VoiceXML browser which is seamlessly integrated with Asterisk."
"We are happy that VXI* powers such innovative service as MyVocal", said Iván Sixto, CEO and Business Development Manager of I6NET. "We have enriched the functionality of VXI* with several speech recognition and audio player features important for MyVocal users, and we are very excited to see how the MyVocal service is taking off, and bringing speech-controlled content services to consumers. We have had a real pleasure taking part in this project."
###
About MyVocal
MyVocal is a developer of an innovative mobile content service which enables listening to any spoken audio content using any mobile phone. Users of MyVocal can control their personalized service with simple voice commands, customize their content on the mobile phone or over the web, and share their content on Twitter and Facebook. MyVocal also helps publishers address their commuting audience by providing a comprehensive set of tools and API for mobile distribution and monetization.
For more information, visit http://www.myvocal.com
About i6NET
I6NET Solutions and Technologies Limited is a pan European company specializing in the development of new applications and advanced communication solutions. It's innovative VoiceXML browser and applications technology enables the creation of interactive voice services to access multi-lingual and dynamic content.
For more information: http://www.i6net.com