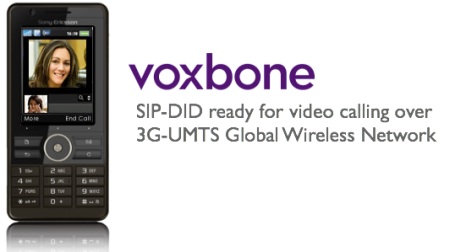 Voxbone's Call Origination Services Certified to Work With I6NET VXI* IVVR 3G Video Telephony Solutions
BRUSSELS, Belgium and MADRID, Spain – Sept. 21, 2009 – Voxbone, a leading provider of international VoIP origination services and DID (direct inward dialed) numbers, and I6NET, a global software vendor for interactive voice and video software platforms, today announced completion of interoperability testing between their offerings.  The successful teaming of the partners' services and platform opens up the potential for wireless carriers to bring mobile video services to market quickly.
The success of their test proved that calls from 3G mobile phones to Voxbone DIDs can retrieve and play chosen video content through I6NET's voice and video browser, using a wireless voice channel. The teamed technology does not require the caller to have a data plan, or to download any software.
In the application tested, a caller using a 3G phone was able to view the live video of any of four remote surveillance cameras. This required a call to a Voxbone DID number, forwarded over IP to an IVR (interactive voice response) application running on I6NET's VXI*'s voice and video browser. The application requested and received the touch tones that enabled the caller to select and control one of the four cameras.
I6NET's VXI* then streamed video from the selected source back to the mobile phone. To make this possible, Voxbone had to ensure that the video signal would remain uncompressed, using a 64-kbps channel from its IP backbone up to the PSTN and 3G partners.
The video-to-mobile technology works with typical 3G-compatible phones, such as the Motorola A1000, Nokia E65 and N70, Blackberry Storm 9500 and Sony Ericsson z610i. It currently operates in the United Kingdom, Belgium, France and Spain; Voxbone plans to add other countries in early 2010.
Video Streaming Through a Wireless Voice Channel
"The integration of Voxbone and  I6NET offerings shows that common telephone numbers can now be used to watch videos transmitted from anywhere in the world through a local call," said Rod Ullens, Voxbone CEO. "The delivery of video services is an emerging area of growth for Voxbone."
In teaming with Voxbone, I6NET has gained access to local numbers from several countries through one IP interconnection, instead of needing separate interconnects, via traditional, TDM PRI channels, to separate carriers. This aggregated IP interconnection opens new horizons for automated and remote video applications.
"The completion of interoperability testing with Voxbone is another great step in the progress of 3G video telephony, and in the success of a new generation of carrier-grade service providers," said Iván Sixto, CEO and business development director at I6NET. "It allows service providers to bring video services to market smoothly and quickly while eliminating high capital requirements for TDM infrastructure."
I6NET's VXI* product is an IP Multimedia Subsystem communication service implemented in software, allowing network providers to unify voice and video traffic within a single network. VXI* is provided with an unlimited perpetual license, on-site training, and technical support and upgrades.
# # #
About Voxbone
Headquartered in Brussels, Belgium, Voxbone provides worldwide local and toll-free phone numbers over its own private intercontinental VoIP network. The all-IP architecture of the Voxbone core network enables customers to rapidly deploy new communications services with local presence while reducing costs. It delivers high-quality call origination from 48 countries and 4,000 cities, as well as "iNum" numbers that enable billing as local calls when dialed through participating carriers anywhere in the world. Through its number inventory, network, self-administered provisioning and comprehensive SIP adherence, Voxbone's global infrastructure enables its customers to expand to international markets quickly and efficiently. Founded in 2002 and privately held, Voxbone is the only carrier licensed in all 27 countries of the European Union.
For more information, visit www.voxbone.com.
About I6NET
I6NET Solutions and Technologies Limited is a pan European company based in Madrid, Spain, and specializing in the development of new applications and advanced communication solutions. Its innovative VoiceXML browser and applications technology enables the creation of interactive voice and video IP/3G services to access multi-lingual and dynamic contents.
For more information, visit www.I6NET.com.