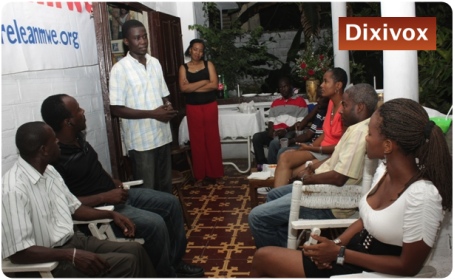 A new way for Haitian to find information; Dixivox, a startup company in Port-au-Prince, Haiti has offered a free Voice Portal service that provides information to callers based on location and category of service.
Minutes after the 7.0 earthquake in Haiti, phones lines and network infrastructures collapsed leaving families with uncertainties about the fate of their loved ones. "Dixivox", a Haitian startup company based in Port-au-Prince, specializes in information technology services and voice portal technology quickly reacted to the issue that left thousands of people without information for days.
Rele Anmwe ("Call for Help")  Individuals can call 3701-4111 from Haiti and the system provides vital information and helping earthquake survivors to locate life saving information such as hospitals, pharmacies, food distribution centers, shelters, security and more… One of the ways to get information or request for help is to call someone that might know. Now Rele Anmwe makes it simple to find information and locate organizations that provide services to earthquake victims in Haiti.
We are please to help this project with other partners providing our technology resources. Thanks to all project's teams and sponsors:
I6NET – Cepstral – Verbio – Acapela Group – Atilus – JP Bois Consulting

More information: www.releanmwe.org
Sources: HearthTimes – Haitian Voice Portal offers Free Service to Assist Earthquake Victims