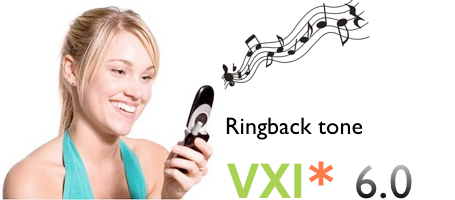 A ringback tone is an audible indication that is heard on the telephone line by the caller while the phone they called is still in use. It is normally a repeated tone, designed to assure the calling party that the called party's line is ringing, although the ring-back tone may be a song or now any dynamic voice content.
The ultimate VXI* VoiceXML browser 6.0 is able to execute a VoiceXML session during ringback tone for your phone services. Now you can provide information or get caller ID during all ringback tone with or without call pikup. You can also create personalized contents for each caller.
Beneficts:
Caller ID detection
Duration, according to your carrier (arround 30s … 60s)
Text-to-Speech or pre-recorded contents
Easy to configure with VXML accounts
Callback services (thru VoiceXML)
No costs for callers!
Requirements:
Asterisk 1.4 / 1.6 / 1.8
VXI* 6.0 (end of February 2011) or upper releases
What for:
Advertisements
Calling rates information
Customized voice messages
Callback services
But, we are sure that you will find many amazing services with this new feature.
Thank you for your continous support!