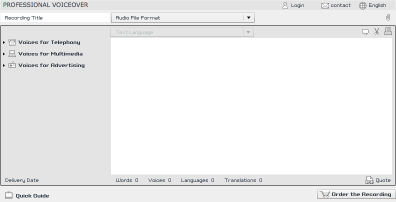 An Interactive Voice and Video Response System requires hi-quality voice prompts for the best user experience. This Voice Over Studio service is based on an online form to order and mange easily your IVR prompts recording. Our team of voice talents delivers you an optimized for exceptionally smooth playback over a phone system.

Select your language, a voice, write your text prompts, select an audio format, add any translation and confirm your purchase in different languages.
Source: http://voiceover.i6net.com
Go to our new voiceover website!