Today, we are pleased to unveil our new webphone template (Web Browser Client*) to make voice and video calls from anywhere with an Internet access to any PBX system (Asterisk, Avaya, Cisco or others…) or making peer-to-peer calls from a website. This web call solution works directly on any desktop web browser (Firefox, Chrome, IE, Safari, Opera,…) equiped with a flash player (that's currently 99% of current web browsers), no external plugins, no browser extensions installation or java applets will be required.
Remember, this solution doesn't require to implemente a Flash Media Server, it works directly over Vxi*/Asterisk servers with a native call processing in RTMP protocol.
[anything_slider title="" column="full-width" autoslide="3000″ slider_id="11601″/]
Main features:
Fully customizable GUI (open source SWF)
Call transfer to an external/internal SIP extension
Nat pass thru / works on any WIFI / 3G / 4G data networks
Dual call to SIP extension and RTMP extension
Video and Voice calling enabled
Auto-register / Auto-dial functions
Fullscreen for video
CIF/QCIF default screen sizes
Bandwidth management
Presence management
Integrated Chat
Audio codecs:
Video codecs:
Sorenson Spark (by default)
H264 *not yet supported
System Architecture: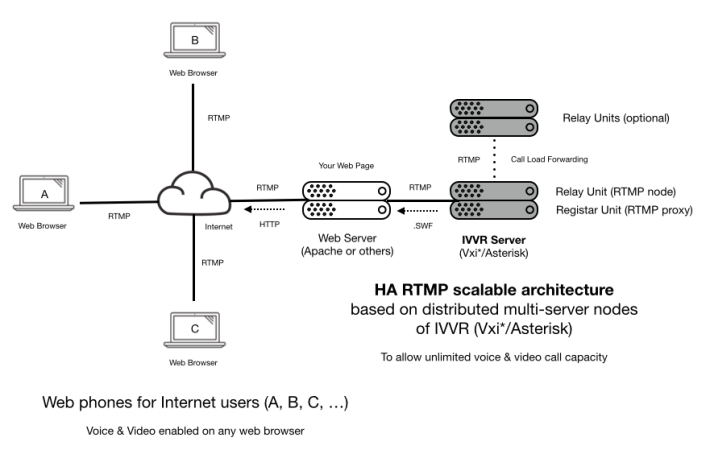 This web call solution is designed both for SMB or Corporations with large call traffic requirements thanks to our HA (High Availability) RTMP scalable architecture based on distributed multi-server nodes of IVVR (Vxi*/Asterisk). For simple deployments, one single IVVR server configuration is recommended.
[dt_divider style="narrow"/]
Want to know more…
If you want to add a web phone on your website to connect your call center, corporate PBX or create your own amazing web-telephony services.
[dt_divider style="narrow"/]
Some other articles you may read: