I6NET and CELUDAN today announced a marketing and technology partnership to develop and increase the penetration of integrated video 3G services.
Spain, Madrid – November 10th, 2008 – I6NET provider of 3G/IP IVR / IVVR VoiceXML communications components for Asterisk, and CELUDAN Technologies, offering 3G RAD – Rapid Application Development Tools today announced a marketing and technology partnership aimed at increasing the penetration of integrated video 3G services.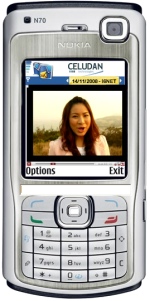 The I6NET-CELUDAN partnership will offer a complete out-of-the-box advanced multimedia platform targeted for Service Providers and ASPs. It will be designed to help enable the rapid development and deployment of advanced interactive video services. This services platform will be based on the integration of VXI* Interactive Video VoiceXML browser for Asterisk with 3G Builder.  Interactive video portals, mobile video conferencing, mobile communities, moderated video chats, participation TV, mobile video surveillance and monitoring, and video contact centers are just some examples of converged services that can be delivered to the market.
The combined I6NET-CELUDAN solution not only shortens time-to-market over existing IMS architectures, but also provides an advanced feature set for best-of-breed fast application development. Now developers and operators can benefit from the valuable experience of both companies to deploy videocall services quickly and  cost-effectively.
"Companies are looking for advanced, high quality and affordable video services but the technical challenges and high cost were significant barriers. This expanded offering with I6NET makes it  easier for businesses to develop and deploy cost effective 3G video services" – Says Luis Catalan, VP of Engineering / CTO of CELUDAN.
"CELUDAN technology interoperability is the most important announcement since we started first VXI* Interactive 3G services over Asterisk. Now 3G application development becomes dramatically fast and easy. Market was waiting since years for a complete software suite for deploying 3G/IP video services for less and we are proud offer it today with CELUDAN" – Says Iván Sixto, CEO – Business Dev. Manager of I6NET.
About Celudan
CELUDAN was founded by a group of telecom engineers with more than 20 years of experience developing telecommunication solutions and service creation platforms for customers around the world. 3G Builder is an innovative new product which combines the best from two worlds: 3G and WEB. Customers such as: Service Content Providers, Operators, Systems Integrators and value added resellers can now deliver interactive web content to standard 3G video handsets during normal video calls, so users can interact with real-time data using their 3G handset key pads.
CELUDAN | calle Mendez Álvaro 64 – 28045 Madrid – Spain
sales @ celudan . com | www.celudan.com
About I6NET
I6NET Solutions and Technologies Limited is a pan European company specializing in the development of new applications and advanced communication solutions. Its innovative VoiceXML browser and applications technology enables the creation of interactive voice and video IP/3G services to access multi-lingual and dynamic contents.
I6NET | calle Magallanes 13 – 28015 Madrid – Spain
info@i6net . com | www.i6net.com