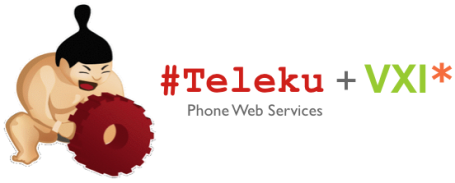 Teleku is a new Cloud Service to host your Phone Applications built using PhoneML® (GetVocal), TwiML® (Twilio) and to run over VoiceXML standard platforms
Today most advanced IVR platforms run standard phone applications based on VoiceXML language. Since more than 10 years, telephony platforms are adopting VoiceXML for many reasons, easy portability of all applications and system's interoperability. Anyway, web developers or many other programmers can consider VoiceXML sometimes complex and provide too many features for common interfaces. For these reasons, many new phone APIs try to use simpler XML or JSON programing languages to control a phone service. Companies like Twilio use TwiML®, a very simple XML phone scripting language or GetVocal with PhoneML®. The Teleku cloud platform runs phone applications written in GetVocal's® PhoneML®, Twilio's® TwiML®, and traditional VoiceXML. You can even mix XML/JSON libraries on a Web service call-by-call basis and chain voice applets together using one or all of the three of these libraries. That's great! If you like PhoneML® or keep TwiML® simplicity you can code your phone services with it, but now your phone service will be able to run over any VoiceXML compliant voice browser platform! Better, you can get your own server to run all your call traffic yourself and manage your cloud telephony business as you want.
I6NET and GetVocal, inc.l are pleased to announce their partnership. I6NET's VXI* VoiceXML browser for Asterisk® can run Teleku extensions, so now you can code your service with TwiML® and PhoneML® too.
Thanks for Teleku for this new great idea of new cloud telephony services!