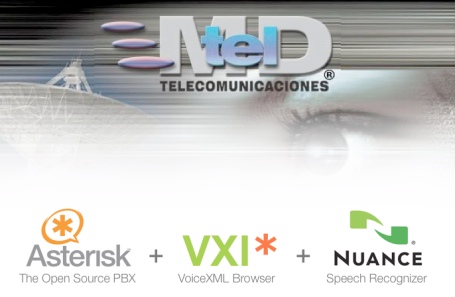 June 8th, 2011, Madrid, Spain. We are pleased to annouce a new success story about Nuance Recognizer 9 and VXI* VoiceXML Browser for Asterisk, the open source telephony platform. MDtel Telecomunicaciones is an expert company with 10 years experience on Networks, PBX and Telephony systems deployments and I6NET is provider of advanced IVR/IVVR solutions for Asterisk. MDtel has selected VXI* software to run Nuance Recognizer 9 and Asterisk as platform's server for a Telcos Customer Care Service. Nuance Recognizer 9 was already in production with another PBX and IVR systems and was a key element to keep running the Telco voice services deployed. VXI* is a highly scalable and affordable voice browser, able to rollout standard based VoiceXML applications and ready to run Nuance speech engines through the MRCP interface in carrier-grade conditions.
"We are really very proud to manage with MDtel team a complete service roll-out over Nuance with dynamic grammars and for key business processes in a Telcos environment." says Iván Sixto, CEO and Business Development Manager of I6NET.
"Selecting the right IVR technology for a carrier-grade project with an important background of existing systems becomes something very critical; we have taken the decision of VXI* with common sense and cost effectivity according to a large experience on Asterisk and Telephony Systems" says Antonio Sánchez, CTO of MDtel.
About I6NET
I6NET Solutions and Technologies Limited is an european company specializing in the development of new applications and advanced communication solutions. Its innovative VoiceXML browser and applications technology enables the creation of interactive voice and video IP/3G services to access multi-lingual and dynamic contents.
For more information, visit www.i6net.com
About MDTel Telecomunicaciones
MDtel Telecomunicaciones is a private Spanish company founded in 1994. With a team of IT professionals highly enabled. MDtel provides IT and networking technology services to companies for a better management of their business. MDtel is expert in very different PBX, IVR and other telephony environnements
For more information, visit www.mdtel.es