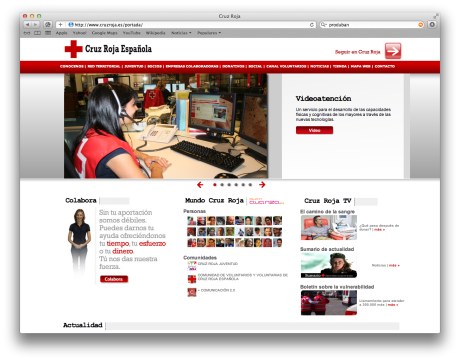 The Spanish Red Cross unveils the latest Video Contact Center for Teleassistance (called "Videoatención" in spanish) designed to help Seniors and develop domestic programs. This service represents a new evolution for contact centers rollouts over the years.
Watch the online video at Red Cross TV [Spanish]:
http://www.cruzroja.tv/video.php?MetaDataID=18551
Today, Seniors are one of the most important community of people (350.000) supported by Red Cross in Spain, so it was very important to develop high-performance and advanced remote services. We are very proud about this project where our Video IVR (IVVR) technology integrated with the Altitude Software uCI Contact Center Solution helps healthcare and solidarity.
Beyond the crisis, video calls provide a new high-tech evolution on Teleassistance with important benefits face-to-face communication, real-time evaluation, video-interactive tests and of course a significant cost reduction for healthcare.
Some pictures about this service in production: