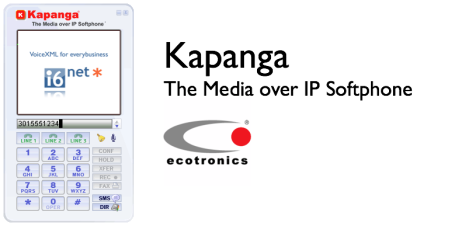 February 22th 2010, Washington – USA, Madrid – Spain. We are very proud to announce our partnership and technical collaboration with Ecotronics the creators of Kapanga an amazing video softphone for IP communications. I6NET's team is working with Ecotronics since years but the convergence of our products is today a real new step for video business solutions. Kapanga is available for Windows, Linux, Android, Windows Mobile and support most of Video and Audio codecs used for Voice or Video over IP Telephony Services.
More information about Kapanga: http://www.kapanga.net
About Ecotronics
Founded in 2000, Washington DC-based Ecotronics is a professional firm providing Information Technology and Electronics Engineering solutions for corporations, academia and federal agencies. With focus on IP telephony software solutions and instrument engineering for meteorological applications, the company delivers its innovative solutions to clients around the world.
Ecotronics Ventures LLC
12662 Piedmont Trail Road – Clarksburg, Maryland 20871 – USA
www.ecotronics.com
About I6NET
I6NET Solutions and Technologies Limited is a pan European company specializing in the development of new applications and advanced communication solutions. Its innovative VoiceXML browser and applications technology enables the creation of interactive voice and video IP/3G services to access multi-lingual and dynamic contents.
I6NET | calle Magallanes 13 – 28015 Madrid – Spain
www.i6net.com