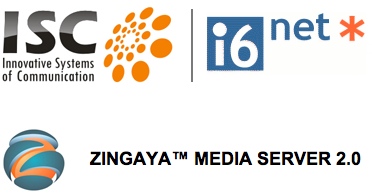 I6NET is please to announce that VXI* VoiceXML browser for Asterisk is interoperable with Zingaya MediaServer – Flashphone – DMZ. The softphone client from InnoSystems acts as a SIP sofphone complementary software for VXI*. The two interoperable products offer a dependable peer-to-peer and peer-to-anyone phone videocall solution to IP/3G service providers, helping them serve their customers better.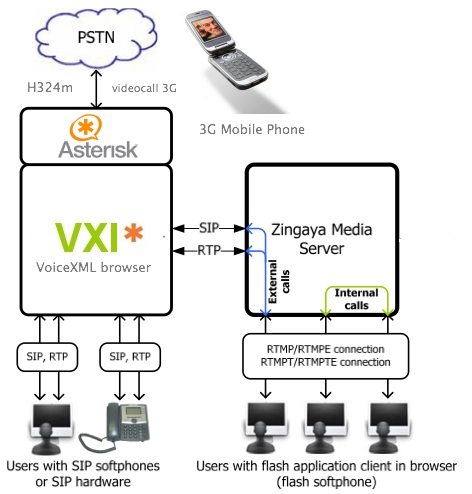 Boths products are now able to provide most advanced real time video services thru 3G/IP technology.  VXI* and Zingaya / Flaphone is today a very powerful combination that can be offered both as complete solution for video callcenter, video selfservices, … The "call via Web site" solution, with Flashphone is powered by InnoSystems' Zingaya Media Server VoIP gateway and the Video 3G/IP Service by VXI* using the VoiceXML language to define any advanced voice or video XML applications. This solution allows low-cost Web/SIP/3G telephony convergence. All end-users need is a Web browser, a PC headset, the free Adobe Flash Player plug-in and sufficient bandwidth. The mutual support of VXI* and Flashphone creates an instant value-add for service providers that can deploy now a complete web base video call center service with video inbound/outbound 3G videocall. A software-based communication services and subscriber management solution, VXI* allows IP telephony services providers to deliver SIP/3G VoiceXML applications with the support of 3G-h324m videocall.
About InnoSystems 
Innovative Systems of Communication LLC was founded in 2007 and is specialized in innovative projects on IT. ISC provide the advanced video flash video softphone platform called Zingaya Media SErver or ZMS.
InnoSystems | Moscow – Russia
info @ innosystems . com | www.innosystems.ru
About I6NET
I6NET Solutions and Technologies Limited is a pan European company specializing in the development of new applications and advanced communication solutions. Its innovative VoiceXML browser and applications technology enables the creation of interactive voice and video IP/3G services to access multi-lingual and dynamic contents.
I6NET | calle Magallanes 13 – 28015 Madrid – Spain
info @ i6net . com | www.i6net.com