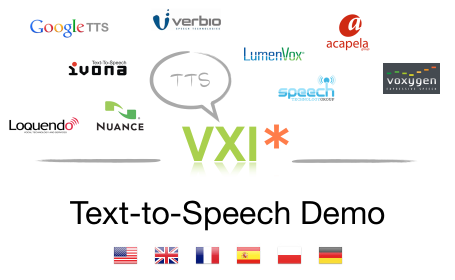 We are pleased to unveil the first IVR / IVVR demo service to test 10 TTS engines!
This demo show you how each TTS works with our VXI* VoiceXML browser to test many languages by yourself over a PSTN call or a web call. Our VXI* server is connected to all of these engines at the same time, and it's running each VoiceXML session in real-time. We will extend this demo service for more languages and voices in the next weeks.
We want to thank all our TTS technology partners for their engine contribution on this demo service where you can select and discover all their product's voices.
Text-to-Speech Engines:
Verbio
Ivona
Google
Voxygen
Loquendo-Nuance
Truevoice-SpeechTechnologyGroup
Lumenvox
Acapela-Group
MBROLA-eSpeak (coming soon)
Festival Lite (coming soon)
Languages:
English (EN)
English UK (EN-UK)
English US (EN-US)
French (FR)
Spanish (ES)
Polish (PL)
German (DE)
Arabic (AR)
PSTN Phone Number:
Call +34 911877474 (local geographic) from any phone or mobile
Web Phone (Audio):
http://demo.i6net.org/phone/audio.html   Call 0013  (register with your own nickname)
Web Phone (Video):
http://demo.i6net.org/phone  Call 0013  (register with your own nickname)
Access Codes (4 digits PIN):
Verbio TTS
8101 (EN), 8102 (ES)
Ivona TTS
8201 (EN), 8202 (FR), 8103 (ES), 8204 (PL), 8205 (DE)
Google TTS
8301 (EN), 8302 (FR), 8303 (ES)
Voxygen TTS
8401 (EN), 8402 (FR), 8403 (ES)
Truevoice TTS
8501 (EN-UK), 8502 (EN-US), 8503 (ES)
Loquendo-Nuance TTS
8601 (EN), 8602 (FR), 8603 (ES)
Lumenvox TTS
8701 (EN-UK), 8702 (EN-US), 8703 (ES)
Acapela TTS
8801 (EN), 8802 (FR), 8803 (ES), 8804 (DE), 8805 (AR)
Coming soon:
MBROLA-eSpeak TTS
9001 (EN), 9002 (FR), 9003 (ES)
Festival-Lite TTS
9101 (EN)