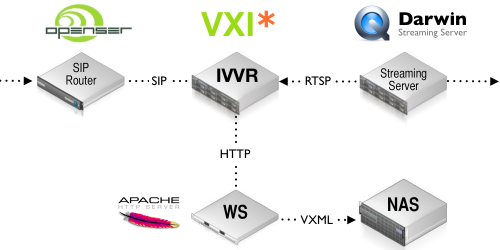 The 3rd Generation Video Telephony value added service providers have seen the benefits of centralizing equipment as it reduces maintenance costs (everything is now managed as a whole) and increases equipment use, since equipment (such as Video IVR ports) can now be shared among 3G operators, thus lowering the overall number of required ports.
Wireless telecommunication operators are rolling out UMTS / 3G networks and providing broadband internet speeds and ability for service providers / customers to access IVVR rich services such as video streaming and mobile TV. Live Video like TV contents are delivered thru RTSP streaming servers and prerecorded MP4 / VXML contends thru NAS systems. The proposed architecture basically supports any single point of failure. Thus, videocalls will continue to be processed even after a failure.
The following high availability features are:
Dual SIP routers:
OpenSER already adequately supports high availability ISDN features by providing primary/backup pairs for most of its services. Thus, in case of a SIP Router failure, the backup component will be used.
Dual IVVR servers:
In the event of an IVVR failure, the network will be notified through SIP that the connection is lost. Hence, 100% of the videocalls will be redirected to the remaining IVVRs. It's possible to manage an unlimited number of servers capacity.
Dual network connectivity:
Each IVVR farm can be located on its own network segment, and each of these segments is connected to a redundant network. Thus, if the network physically goes down at a site (eg, the network switch blows up), the backup site will take over
Farming Architecture Diagram: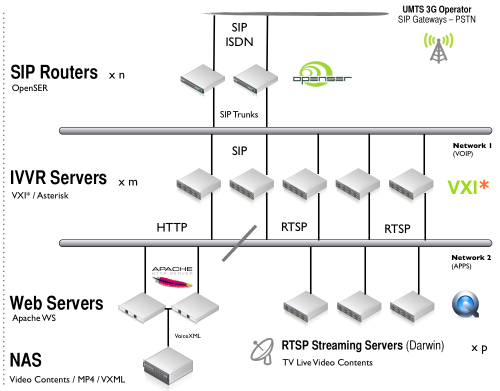 Required components:
SIP Routers (OpenSER – Kaimailo Open Source SIP Server)
IVVR (Video IVR) – VXI* VoiceXML Browser for Asterisk with Xtras* Video IP/3G
NAS for VoiceXML applications and MP4 Video Contents storage
Darwing Streaming Server from Apple
Apache Web Servers
For more information, please contact our team.